Tri-State Wildlife Management specializes in bat removal and exclusion from houses, multi-unit buildings, and businesses. Put our experience and expertise to work for you! (859) 635-0037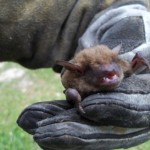 Bat Removal from Attic: Bats are useful mammals to have around, as they are a great, natural way to control flying insects such as mosquitoes. More and more people are setting up bat houses in their yard to encourage bats to feed on mosquitoes which carry a variety of viruses harmful to humans (including zika virus and malaria). The good of having bats around is outweighed by the bad if they decide to roost in your attic. Bats are more likely to enter the living space of your home if they are roosting in your attic. As they are prominent carriers of rabies, this is a problem that should be addressed. If there is any chance at all that a bat bit someone, precautions must be taken. If the bat is caught without damage to its head, it can be tested for rabies. If it is not caught, then rabies shots must be administered in case rabies is contracted. After rabies symptoms appear, it is too late for the shots to work. Bats also create latrines at their roost site which can cause histoplasmosis in humans. In order to prevent these unsanitary, unsafe conditions, bat should be permanently removed and excluded.
Tri-State Wildlife Management (TSWM) specializes in bat removal and exclusion in the Northern Kentucky area. Many homes and buildings are susceptible to bat entry, as bats can squeeze through a hole smaller than a dime. For this same reason, it is very difficult to permanently exclude them from your residence or business. TSWM has the experience and expertise to rid your home of bats for good. Technicians inspect your entire home to identify entries as well as vulnerable areas. Our goal is to ensure bats will never again gain access into your home to roost, so we are sure to do a thorough job of repairing entries and securing at risk areas. Our work is not only effective, but it is also aesthetically pleasing. We take pride in our ability to permanently exclude bats while maintaining (or improving) the beauty of a home. Materials used are of highest quality, able to withstand not only weather and the elements, but also attempted wild animal entry. Materials used by construction and roofing companies do not take wild animal entry into account. The difference could mean thousands of dollars spent in future wildlife removal and repair.
Some of the telltale signs that you have a bat problem include dark marks near their entry point and bat guano below an entry point. You may also see bats leaving their roost at dusk to feed on flying insects. Bats can often go undetected by property owners and residents, so it may be years before you realize you have a bat problem. At that point, you may be dealing with generations of bats that often use the same roost year after year. In some of the worst cases, you may smell bat latrines (pile of guano and urine) from a living area, or notice a stain on the ceiling or wall. Bat waste can cause histoplasmosis in humans, so safe cleanup procedures and material should always be used.
Tri-State Wildlife Management specializes in bat removal, exclusion, and repair. Call today, and put our experience and expertise to work for you! (859) 635-0037
Comments are closed.