Call Tri-State Wildlife Management for Professional Bat Removal Services in Alexandria, KY. 859-635-0037. Serving Northern Kentucky and Greater Cincinnati.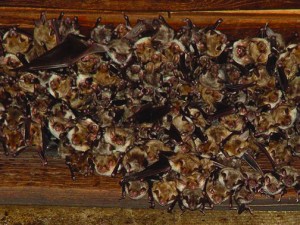 Bat information for the home or business owner experiencing bat pro0

blems:

Bat Removal Alexandria, KY: Bats are found worldwide and include about 900 species; however, there are only 40 species living in the United States. The Greater Cincinnati area typically only deals with two types of bats; the little brown bat and the big brown bat, although Indiana bats are also native to the area they are very rarely found in dwellings. Bats are nocturnal and tend to be rather shy. Because of their habits and old superstitions, people seem to have more fear of bats than they need to. Both the little brown bat and the big brown bat are dark in color and live in colonies. Roosting in attics, wall spaces, chimneys, siding, shingles, behind shutters, barns and in between tree bark is all common. All attics if not sealed properly run the risk of needing bat removal.

Adult bats breed in the fall and bear their young May through July. Little brown bats usually have one pup while big brown bats typically have two. Weaning occurs in July and August when the young are old enough to fly. It is during this time that juvenile bats often mistakenly find their way in to living quarters. As a general rule, in our area, big brown bats tend to be year-round residents, while little brown bats may stay or leave the area to hibernate.
Bats become a nuisance when their close proximity to humans brings them into living areas during season changes. Many times, however, homeowners may have bats in their home, but do not realize it until one or two accidentally find themselves in the living space of a house or basement. Another way that homeowners realize they have "bats in the belfry" is when a noticeable pile of droppings known as guano is found lying on the ground or windowsill alongside the house. Above this pile, usually up in the soffit area or attic vent area, there is a hole for entry and exit. When bat guano and urine build up in an attic or wall space, the smell gets very strong –this is one more indicator of bat presence in a home. Bats present a danger because they are a carrier of rabies and their guano can lead to a lung disease called histoplasmosis. Exclusion is important because of these threats. For this reason, TSWM also offers full attic clean outs with sanitizing and deodorizing. Because of the pups' inability to fly out, TSWM cannot remove bats between mid-May and mid-August. This is crucial information when excluding bats from your residence.

Due to expanding human populations reducing wildlife habitat, and humans creating more comfortable habitat, many species of wildlife at one time or another require management actions to reduce conflicts with people, property, and pets or with other wildlife species. In many cases wildlife species have found a way to co-exist with their human neighbors. Sometimes conflicts do arise and action is needed to protect the wildlife, humans, pets or property.

TSWM's goal is to alleviate the problems that sometimes occur where wildlife and humans co-exist by providing information for homeowners to make good decisions to deter wildlife whenever possible. M Sometimes wildlife needs to be removed when no other solution can be reached.
Tri-State Wildlife Management is your full service Bat Management Specialist, offering bat exclusion , repair, and attic cleanups. Nationally Certified Bat Standard Compliant. 859-635-0037 Call Today!
Comments are closed.