For mouse removal in Crescent Springs, KY or anywhere in northern Kentucky, Cincinnati, or southeast Indiana, call Tri-State Wildlife Management at (859) 635-0037
Tri-State Wildlife Management – Protecting You, Your Property, and Your Investment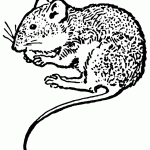 Crescent Springs, KY Mouse Removal (41017): Mice live just about everywhere, and they often choose to live in man-made structures such as houses, apartment buildings, office buildings, warehouses, or sheds, just to name a few. All homes and buildings in northern Kentucky are susceptible to mice, and many homes and businesses have mice, although we often go unaware. Mice usually stay out of sight, choosing to stay in unoccupied areas of a home or building. Attics, walls, duct work, crawlspaces, and basements are some very common places that mice reside. If mice are detected, it's usually because scratching or squeaking is heard coming from the ceiling or walls. Less often, physical evidence left by mice is found. Some of the most common physical signs of mice include chew marks, crumbs, nesting materials, and droppings. It's a rare occasion if TSWM receives calls from customers who know for sure that they have a mouse/mice problem, based on droppings, crumbs, and chew marks in food or other materials. It can be a little unsettling to find evidence of mice in your home or office, and when you do, you want to get rid of them right away.
It can often be difficult to determine whether a mouse/mice is the culprit making the noise, however, and not until a thorough inspection is complete can the animal be identified. Noises made from squirrels, birds, or bats are often mistaken for mice, and vice versa. Tri-State Wildlife Management provides removal and exclusion services for all wild animals, so no matter who the culprit is, we can take care of it for you. If another animal is to blame for making the noise in the walls or ceiling, a removal and exclusion plan can be implemented. This typically involves trapping the target animal and then repairing entry points or vulnerable areas on the home with wildlife grade construction materials.
Tri-State Wildlife Management will take care of your mouse problem. TSWM completes a house inspection to determine where the mice are located and where best to set up to trap them. TSWM never uses chemicals or pesticides of any kind to resolve a mouse issue. TSWM also educates customers on how to deter mice from their home or office through habitat modification. Some of the most important changes to consider are keeping enticing foods (bird seed and pet food, too) tightly packaged and making potential nesting materials unavailable. After the home inspection and setup, traps are monitored and/or checked until the customer and TSWM know the mouse issue has been resolved.
Tri-State Wildlife Management can take care of your mouse issue for you. As a full service company, TSWM will complete a home inspection and begin a trapping program. In addition, TSWM educates customers on how to remove and deter mice from your home. When you hire TSWM to resolve your mouse problem, you can ensure the process involves zero pesticides, toxicants, or chemicals of any kind.
Tri-State Wildlife Management is fully insured, and we stand behind all our work.
Crescent Springs, KY Mouse Removal (41017): For mouse removal anywhere in northern Kentucky, Cincinnati or southeast Indiana, call Tri-State Wildlife Management at (859) 635-0037