Rid your attic of bats before cold weather sets in and it's too late! Call the preferred bat removal company of Northern Kentucky, Tri-State Wildlife Management, at (859) 635-0037. Now is a great time of year for bat removal in Northern Kentucky. TSWM is fully licensed and insured, and we stand behind our work. Put our experience and expertise to work for you!
Early fall is a busy time for Tri-State Wildlife Management (TSWM), as we continue to remove bats from homes and make repairs to exclude them for good!  Resolving a bat issue in a home or structure is time sensitive work. TSWM does not remove bats by trapping them; instead, our techniques allow bats to exit your attic while prohibiting reentry. By the time all bats have left your attic, TSWM finishes sealing up your home to prevent bat access. In order to make your entire home as bat-deterrent as possible, TSWM must finish all sealing before cold weather sets in. Once bats begin hibernating in your attic this winter, final repair work must be put on hold until spring when hibernation has ended. Of course it is best to complete the exclusion process now so bats cannot use your attic as their hibernating roost site.
In the past, our most common bat in the northern Kentucky area was the little brown bat, some of which migrate to warmer climates for the winter. Instead of entering a true hibernation state, they may leave their roost on warmer nights to hunt insects that may also take advantage of the warmer weather. Due to a devastating disease plaguing bats, called white nose syndrome, most of our little brown bats have died. The most common bat species in our area now is the big brown bat, which typically winters over in its maternal roost site. This is important for two reasons; first, we must assume that bats are in your attic during the winter rather than migrating elsewhere (or else we would not have to wait until hibernating season is over before fully sealing your home); second, if bats have had access to your home for years, then their numbers have multiplied each year.
Resolving a bat issue in a home or structure is tedious work. As mentioned above, bats prefer to return to their maternal roost site year after year. If their main entry(s) is repaired to prevent future access, they will find other openings. Even if no other opening is readily available, they may take advantage of vulnerable areas of your home and gain access. Oftentimes, they wind up in the living area of a home if their main entry is sealed. TWSM not only repairs current bat entries, but we also complete a thorough inspection of your home, identifying at risk areas. These vulnerable areas are also sealed and repaired, in order to make your home as bat deterrent as possible.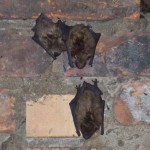 Tri-State Wildlife Management – Protecting You, Your Property, and Your Investment
For Bat Control in Northern Kentucky, call Tri-State Wildlife Management: The Bat Removal Company of Northern Kentucky. (859) 635-0037