For bat control in Erlanger, KY or anywhere in northern Kentucky, Cincinnati, or southeast Indiana, call Tri-State Wildlife Management at (859) 635-0037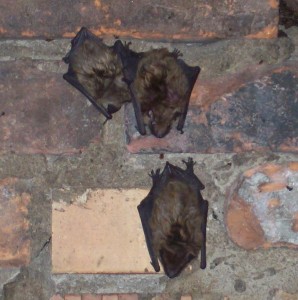 Bat Removal Erlanger, KY (41018): Bats become a nuisance when they roost in large numbers in houses and businesses. Despite their usefulness, discovering or even suspecting bats living in your home or business is unsettling. Due to the breeding and roosting habits of bats, timing the removal of a bat colony is crucial to both the success of the exclusion as well as its legality and therefore best left to the experts.
Bats often enter the occupied spaces of businesses or residences due to their roost being in close proximity to open windows, doors, and attic access. Tri-State Wildlife Management's technicians are thoroughly trained in bat eviction/venting procedures and educate their customers regarding the best solution to rid their property of a bat invasion. The process starts with a meticulous inspection of the property designed to identify structural defects, as well as current and potential bat entry points that lead into the interiors of the structure. The inspection is intended to assist in the evaluation of the overall bat colony within the condition of the building.
In addition to removal/exclusion services, Tri-State Wildlife Management (TSWM) also offers full and partial attic cleanouts. TSWM employees are trained in safe and effective methods of removing bat guano and contaminated insulation. Due to the risk of exposure to diseases such as histoplasmosis, proper protective gear and equipment is vital to a safe and effective cleanout. TSWM is committed to working with home and business owners to eradicate their nuisance wildlife issue.
The courteous staff at Tri-State Wildlife will work for you to provide a cost effective solution to your bat or wildlife intrusion and/or damage issue. As a full service company we will initiate an Integrated Management Plan beginning with an inspection and customer education followed by bat removal and exclusion of intrusive bats or wildlife, clean-up, repair/restoration and prevention.
We strive for the most humane and environmentally effective techniques for dealing with bats and wildlife problems. Tri-State Wildlife Management's use of modern innovative methods provides sound wildlife management services to ensure the protection of our customers' investments and health.
Tri-State Wildlife Management is a full service company. In addition to your bat issue, TSWM offers bird and wildlife damage repairs, installs custom and standard chimney caps, seals homes and businesses to prevent wildlife from entering, removes bird, bat, and raccoon droppings and debris from attics, installs barrier fencing, removes dead animals and MUCH MORE.

Tri-State Wildlife Management – Protecting You, Your Property, and Your Investment
Erlanger, KY Bat Control (41018): For bat control in northern Kentucky, Cincinnati, or southeast Indiana, call Tri-State Wildlife Management at (859) 635-0037