Spidey Squirrels are invading homes in Northern Kentucky and Cincinnati!!!
Did you Know that squirrels are a lot like Spiderman?  No, they don't wear red tights and no they can't shoot spider webs, but they can maneuver a building a lot like Spiderman. Recently I had an encounter with "Spidey Squirrel" at a client's house in Cincinnati, Ohio.  I was at the client's house looking for sign of squirrel entry.  I found a hole in an eave of the house so I made my way towards the hole. Suddenly a squirrel shot out of the hole missing my face by a few inches.  The squirrel then leaped two stories from the roof to the ground. When I climbed down off the roof I made my way to the back of the house and wouldn't you know it, there was Spidey Squirrel.  The squirrel then scampered back to the house and climbed right up the brick towards the roof just like he was Spiderman.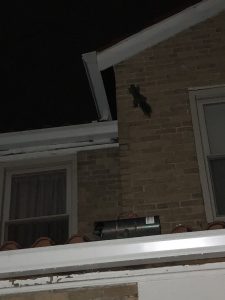 I am often asked by new clients, "If I cut down the tree next to my house, will that prevent squirrels from getting into my house?".  Although it could help a little, the answer is "No". In my experience (like my encounter with Spidey Squirrel), squirrels in Northern Kentucky and Cincinnati will climb up almost any surface to access a home's attic, soffits, and chimney. The best option to stop a squirrel from entering your home is not to cut down the beloved family tree.  It is to remove the squirrel.  If trapping a nuisance squirrel is not a job you are interested and/or capable of taking on, don't worry, Tri-State Wildlife Management has been performing squirrel removal in Northern Kentucky and Cincinnati for over 15 years.  Our team will safely and humanly handle your squirrel removal needs. We are a full-service company and specialize in removing wildlife from your property, as well as making proper repairs to restore and protect your property.
Moral of the story is; if you have a tree next to your house that you like, don't cut it down because you think it will keep squirrels away from your roof line.  Let Spidey Squirrel be a prime example, that if a squirrel has fidelity to your home the best way to stop them is to hire a nuisance wildlife control operator that specializes in squirrel removal.  If you are in the Northern Kentucky, Greater Cincinnati area, Tri-State Wildlife Management is your company for all of your wildlife removal needs.  Call us at (859)635-0037.