For bat removal in Taylor Mill, KY (41015), call Tri-State Wildlife Management at (859) 635-0037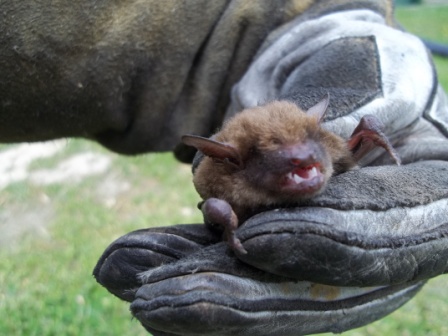 Tri-State Wildlife Management – Protecting You, Your Property, and Your Investment
Taylor Mill, KY Bat Removal (41015): Tri-State Wildlife Management is currently excluding bats from homes in northern Kentucky. Typically, homeowners realize they have bats living in their attic when they see bats exiting their home, or when they spot bat droppings on their home or close to it on the ground. A bat may escape into the living space of a home, which also may be an indicator you have bats living in your attic.  Bats that stayed in the area over the winter are now venturing out to feed, and bats that migrated south are returning. The mild weather gives bats the opportunity to leave the warmth of your home, just as the warmer weather has encouraged many people to rest, work, and play outside. Many people are outside in their yards or relaxing on their deck or porch around dusk, which is also the time that bats leave their roost to feed on bugs and insects. If their roost is in your attic, you may see them taking off from your home and feeding in the surrounding area.
Having bats in your home is an unsettling and serious problem, even if they are confined to the attic. Not only do they urinate and defecate anywhere they roost, causing staining and odor problems which are difficult to remove, they are associated with diseases which are dangerous to humans, including rabies and histoplasmosis (a lung disease caused by the spores of fungus which grow on their droppings or guano). While bats are very beneficial to humans because of their affinity for many flying insects, such as mosquitoes, if they find their way into your home and take up residence, they can also be some of the most destructive, dangerous, and expensive wildlife to control.
Since bats are a protected species, removal should be done by a trained professional, such as our trained technicians.  In addition, we perform repairs and/or restorations to your home or business to prevent re-entry. TSWM also offers partial and full attic cleanups after bat exclusion.
Now is the perfect time to rid your home of bats. Once females begin giving birth to young (usually mid-May), full bat exclusion work must be put on hold until all juveniles are old enough to fly (usually mid-August). Although partial repairs of at risk areas can be completed during this blackout period, Tri-State Wildlife Management is not ethically or legally able to exclude bats from your home.
Tri-State Wildlife Management is Certified Bat Standard Compliant by the National Wildlife Control Operators Association.
Tri-State Wildlife Management is fully insured, and we stand behind all our work
For bat removal in Taylor Mill, KY (41015), or anywhere in northern Kentucky, Cincinnati, or southeast Indiana, call Tri-State Wildlife Management at (859) 635-0037
Comments are closed.