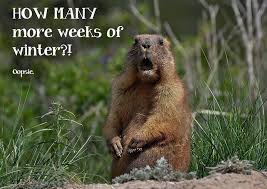 The Greater Cincinnati Area is experiencing one of the coldest weeks in recent history, and is headed for an unseasonably warm spell in just a few days. Right in the middle of this weather hiatus is Groundhogs Day. This time honored tradition is celebrated every year in the United States and Canada on February 2nd. The Lure states that if a groundhog sees its shadow upon exiting their burrow that it will retreat back to their burrow and there will be six more weeks of winter. If the groundhog on the other hand does not see its shadow spring will arrive early.
Saturday calls for decreasing clouds so there is a chance the groundhog will see his shadow and we will be in for another dip in temperatures.
The predicted warm up will ramp up animal activity for some local squirrels and raccoons who were hunkered down (in cozy attics) during the arctic temperatures. Be vigilant of suspicious noises coming from the roof or chimney. Also, be sure to take a walk around your home looking for minor damage possibly caused by the ice and snow. Such damage to roofs, soffits, and fascia can make a home vulnerable to opportunistic wildlife intruders. The best weapon against animal invasion is prevention.
If you have a nuisance groundhog, squirrel, or raccoon infiltrating your property give Tri-State Wildlife a call today! 859-635-0037 Let our experience be put to work for you!